EXCELLENCE THROUGH EFFORT
Emergency procedures
In case of major emergencies (such as fires, animal alerts, earthquakes, tsunamis, etc), students shall remain on site and are supervised by all staff until there is an announcement for parents to pick them up at a designated site or the school. 
At KCS, we conduct total evacuation fire drills at least three times per year under direction of the Fire Chief.  
The school administrator or designate will ensure that no student or staff remains in the school unaccounted for, and that exit maps are posted (in classrooms and exits) and procedures are reviewed and practiced regularly. The fire alarm system will be used for fire alarms and fire drills only!
Practicing drills will help ensure that students will respond in an efficient, cohesive, and safe manner during the chaos of an emergency situation. Remember that quality practice increases the chance of everyone's survival in the event of a real emergency.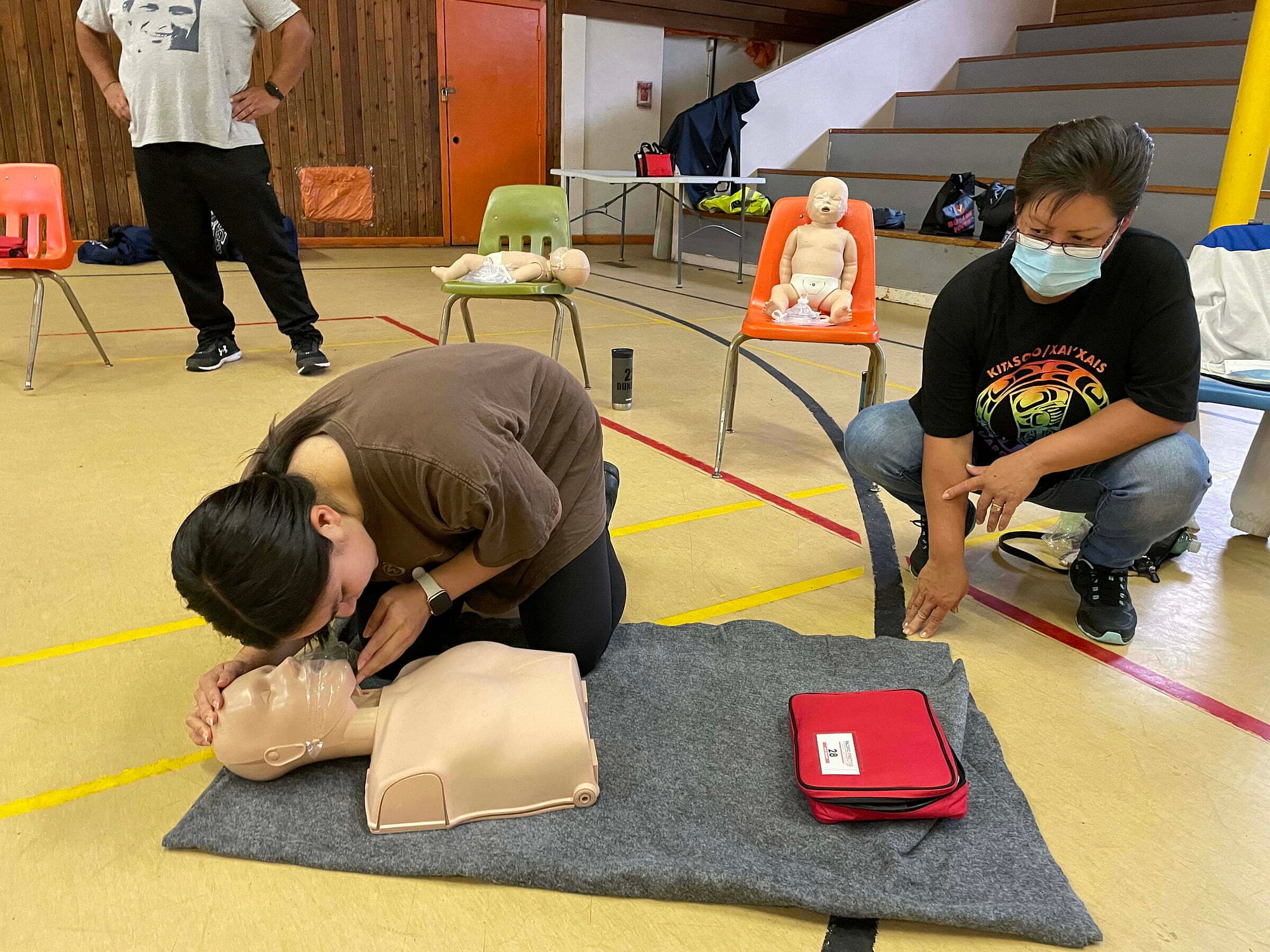 MUSTER POINT FOR FIRE & EARTHQUAKE DRILLS
Muster point:
Behind the school on the water tower road
Evacuation Muster Point:  At the bottom of the road leading up to the water tower. Students wait there until given the signal to re-enter the school by the School Administration or the Local Fire Chief.
DRILL SCHEDULE

TYPE OF DRILL
# of times per year
Dates
Fire 

1 drill every 2 months

September & January

Earthquake 

2 drills per school year 

October & February

Lockdown 

2 drills per school year

November & April
FIRE DRILL PROCEDURE
When the fire alarm sounds, all activity STOPS in classrooms.

Students remain quiet and wait for instructions. Additionally, machinery should be shut down, and gas and/or other appliances are shut off.

The teacher directs students to "Line up."

 Students will line up facing the door, remaining silent. Teacher takes: class attendance list and first aid bag, and keeps them with him/her until the end of the drill.

The teacher follows the route on the posted map in the classroom and leads students out of the building in an orderly manner to the muster point.

Education Assistants exit behind students, ensuring all are accounted for and remain with the group.

Students will remain with their class until dismissed by the Principal or person in charge.  

Students outside the classroom and still in the building shall go to the nearest corridor and join any class or if close to an exit.

They leave the building and report to their particular class outside the building.

Non-teaching staff

will have designated responsibilities for checking specific areas and rooms of the school before leaving the building and meeting at the muster point.

The teacher takes attendance and reports

"all present" (or who is missing) to Command Central (principal, administrative officer, or person in charge).
EARTHQUAKE DRILL
In the event of an earthquake, students will be instructed to drop and cover.  Drop and cover follows this process: drop to the ground, take cover by getting under a sturdy desk or table, and hold onto it until the shaking stops.  
Earthquakes happen with no warning; therefore, life-protecting actions must be taken at the first indication of ground shaking. Even in the most severe earthquakes, buildings rarely collapse completely. Injury is most often caused by shattering and falling of non-structural elements such as window glass, ceiling plaster, light fixtures, chimneys, roof tiles and signs. Because there will be little or no time to think about what to do, we practice evacuation at least two times per year.
In the event of an earthquake:
Duck and Cover under desks or tables.

 

Duck

under a desk or table.

Cover

the back of the neck and head with one hand.

Hold desk leg securely with the other hand.

OR crouch next to an inside wall (if in the hallway or other room). Kneel with back to the wall.

Face away from windows or glass.

Stay away from windows, shelves, and other heavy objects that may fall.

In science labs, shops and home economics rooms, extinguish all flames; take cover away from hazardous chemicals.

Do not use the elevator.

Remain quiet and calm. Listen for instructions from the teacher.

Count out loud: 60 + 10 + 60

.

First count to 60.

Wait 10 seconds (again counting to 10 in unison).

Count for another 60-seconds to allow for aftershocks.

If the shaking has stopped and no instructions are heard immediately after the second 60-second count, the teacher will:

Confirm that all students are safe.

Direct students to shuffle over to put on coats and line up to vacate.

Put the 'OK' sign in the window (if everyone is vacating).

Put the 'HELP' sign in the window and on the door (if anyone is too injured to transport).

Have designated student carry the earthquake backpack.

Evacuate building to muster point.

Vacate the building, using the safest route possible. Go to the muster point.

Evacuate immediately if there is a fire or gas leak; otherwise, evacuate SLOWLY and CAUTIOUSLY to be safe.

If unable to evacuate, hang the 'HELP' sign in the window and door.

Students remain quiet. 

Teacher takes attendance.

After the shaking: Re-enter school if safe to do so:

Command Central (principal, administrative assistant, fire chief, or designate) makes sure no debris is hanging over building exits. 

If electricity is shorting, turn off power at primary source. 

Should water pipes leak, turn off water at primary source. 

Natural gas will shut down automatically with shaker valve. 

Call gas company before can can be turned back on.

Open doors and windows to ventilate rooms in areas near leak. 

Report all leaks to Command Central.

Stay out of damaged buildings until it is determined that they are safe to re- enter.

Be wary of more aftershocks.

OR STUDENT RELEASE: Dismiss Students (if unsafe to re-enter school)

Set up student release station and other centres, i.e. first aid triage, shelter, food and water, etc. as necessary.

In the event of an unexpected school closure the staff will conduct a controlled student release.

Reunification procedure:

Students will be released to the parents or guardians listed on the school's STUDENT(S) RELEASE FORM. **Please ensure the school has updated information for your child, and that alternate guardians are familiar with the school reunification procedures.
Earthquake Drill Procedure
Principal plays earthquake rumbling sounds on loud speaker.
Principal announces: "This is an earthquake. I repeat: this is an earthquake. Duck and cover immediately."
Classes (and principal) count 60 seconds. 
After 10 seconds, principal plays more earthquake rumbling sounds (to represent aftershocks) on loud speaker.
Classes (and principal) count 60 seconds for a second time. 
Everyone evacuates to muster point; students bring coats and backpacks.
Attendance given to Command Central; all students accounted for.
Principal announces that the school is safe to re-enter.
Classes resume.
TSUNAMI 
In the event of a tsunami/warning, children will reunify with their families in the hall (where the community musters). Because KCS is on the highest ground, it is considered the safest place to be in Klemtu. (The school is approximately 90 m above sea level and 50 m is usually considered safe in a tsunami.)
In the event of a tsunami, school activities can function as normally as possible, depending upon a variety of factors (how long the tsunami warning has been in place, the level of risk, time of day, the particular needs of students, staff or families, etc.)  We certainly acknowledge that students, staff, and parents/guardians may be anxious or worried. Social-emotional wellbeing and medical needs will be our priorities.
The principal will work with the Chief Councilor and emergency personnel to respond to emergency updates (given over the VHF radio, phone call from or posted on Facebook).
Students will be instructed not to leave KCS. 

The principal, administrative assistant, and available staff will control access to and from the school until the tsunami/warning is deemed "canceled." 

Communication will go out to parents/guardians. We will make all attempts to update parents and announce that "All students shall remain at school until the tsunami is "canceled."

Parents will be allowed to join their children in their classrooms (to offer support, etc.).

Parents will sign out their children at Command Central.
EMERGENCY LOCKDOWN PROCEDURE
A lockdown is called when
There is a major incident or threat of school violence within the school, or in relation to the school.

If a person (staff

or other person) has a deadly weapon or is under the influence of drugs or alcohol AND/OR utters a threat to kill or maim someone.
Parents should wait for information from the school administration before coming to the school.
Procedure
The Principal or School Administrator will call on the PA announcement speaker  "Lockdown. Lockdown. Lockdown."

Principal or designate phones the RCMP

(250-839-1247)

or Kitasoo administration authority.  Principal or designate sends out LOCKDOWN NOTICE on VHF. 

Teachers will lock all doors and secure students at a safe location away from doors and windows. Students in transit go to the nearest classroom/bathroom for shelter. Students remain silent and hunched down.

Principal and either RCMP or Fire Chief (Spencer) will go door-to-door to inform students/staff: "Emergency is Over. Situation is Normal." Only then, will teachers open doors and allow students to leave their safe positions.  
LOCKDOWN details: 
Lower window blinds if possible or safe. 

All staff and students silence cell phones. 

If a teacher and class are at the library, proceed to the nearest classroom or bathroom quickly. 

If in a bathroom, crouch/stand on the toilet. 

If in the library, go to the art storeroom. 
 HOLD and SECURE 
"Hold and Secure" is a school safety procedure designed to maximize the safety of staff and students when circumstances in the area of the school pose a potential for danger (i.e. bear or wolf sighting, chemical spill, downed power lines, etc.)  

During a hold and secure, the principal will allow the interior of the school to function as normally as possible. 

However, the Principal (and administrative assistant) will control access to and from the school until the danger has been remedied. 

After any Hold and Secure, a communication will go out to parents/guardians briefly outlining the situation and how it was handled. 
POWER OUTAGE
If the outage lasts less than an hour, students are to remain in the building which is equipped with an emergency generator and lighting.

If after an hour the power is not restored; upon notification of parents and KEA Board Chair, the school will close and students will be dismissed.

If this occurs before noon, if the power comes on by lunch hour, students will attend school as usual in the afternoon. 
WATER SHUT OFF TO THE SCHOOL
If water comes back on within one half hour, school will remain in session.

If water remains off longer than one half hour, upon notification of parents and the KEA Chair, the school will close until such a time as full water service is restored to the building. Parents will be notified through usual channels – VHF, Community Facebook Page, poster.
MAJOR EMERGENCY PROCEDURES – after school hours
In the event of an after-hours major emergency or natural disasters (fire, earthquake, tsunami alerts, etc.), principal or designate calls in updates to: BC Provincial Emergency Program (PEP) Headquarters 
Tel: 250-952-4913 
Emergency: 1-800-663-3456   
Note: Those present follow instructions of the principal (or designate), emergency official, or RCMP. 
Principal or designate will also organize emergency accommodation needs in the gym, availability of First Aid Kit, or (unattended) student supervision.  
School staff must assist in emergencies. They: 
coordinate emergency and alert activities with designated Klemtu Emergency Responders and Fire Chief, 

help maintain order or an emergency evacuation, and/or

assist cell users to get wireless internet access or with the setting up of a TV to follow news broadcasts.
Earthquake, tsunami, school lockdown

Students (and community members) sit at the perimeter of the gym at the designated area. If the gym is full, take cover under a table (in classrooms). Those present may be given a signal to leave by the gym door to higher ground across the road (i.e., the muster point) if necessary. 
During Earthquake or Tsunami, on the VHF, it is announced that "All students shall remain at school until parents may pick them up."  Students remain in their classrooms (or safest place in the school) until the event is "canceled."